HLTINFCOV001 Comply with infection prevention and control policies and procedures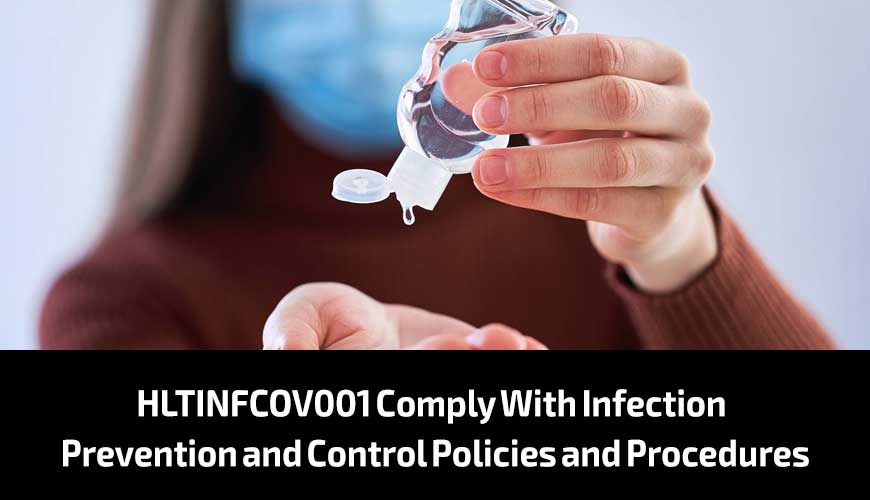 HLTINFCOV001 Comply With Infection Prevention and Control Policies and Procedures
A corresponding industry needs this infection-control skill set concerning the food handlers because of pandemic COVID-19. Specifically, COVID requirements are included while developing this skill set. After completing this unit, you will be able to follow correct prevention procedures for organisational infection handling and will be able to control policies and procedures better. The implementation concerning precautions which are standard and transmission based are the priority learning outcomes. Moreover, how to respond to those infection risks which are prevalent in operations concerning food handling.
About HLTINFCOV001 Comply With Infection Prevention and Control Policies and Procedures
This unit of competency (HLTINFCOV001 Comply with infection prevention and control policies and procedures) is Nationally Recognised. Furthermore, it is very fantastic standalone skills and knowledge that can provide you with good credit towards your certificates and diplomas concerning several qualifications, especially where there are requirements for infection-control skills.

This unit (HLTINFCOV001 Comply with infection prevention and control policies and procedures) is strongly recommended for those who need to handle food, and they also require proper knowledge and skills for how to minimize transmission and risk of infection. The unit (HLTINFCOV001 Comply with infection prevention and control policies and procedures) will enable you to quickly implement the best possible practices for preventing and controlling measures concerning viruses and bacteria. That is now an essential demand of any workplace.
| | | | |
| --- | --- | --- | --- |
| Name | Location | Cost | |
| HLTSS00066 Infection control Skill Set (Food Handling) – Skilled Capital | Canberra Training Centre | $0.00 | |
The outcomes for successful completion of this unit will be in the form of following skills and knowledge:
This competency unit is divided into 6 sessions, 2 sessions dedicated for each of the following learning areas.
The Food Handling Certificate (Level 1) assessments will be based on:
Reading and watching videos.
Each section consists of reading material assisted with videos. Students are required to digest that properly by learning, all the aspects of infection-control. That will enable you to get a hundred percent result in quizzes.
Quizzes-Knowledge Test:
There will be a multiple-choice quiz at the end of all sessions every student must undertake. Hundred percent score will enable you to progress to the next session. Every student can avail five attempts for completing every quiz.
Case Studies – Written Assessment.
Written assessments and case studies will confirm that the student can apply the learning outcomes to practical situations of real-life. Students will be required to review their case study before answering several questions concerning the best possible ways of handling different scenarios.
Third-Party Verification.
A 3rd party will be hired to observe students' infection-control skills and practices, which will be needed for completing the Nationally Recognised Unit of Competency. Students will also be allowed to get this third-party verification from their past or present employers they are working with and have seen you perform the tasks.
Kick start your career by earning a recognized qualification. Being acknowledged for the skills you acquire will help you advance your career and further education. We evaluate your skills and apply credits based on previous education, experience, and skills. Some of the job opportunities you may want to consider are nursing assistants, community care workers, support workers, personal care attendants, disability support workers, etc.
On completing this Nationally Recognised unit of competency, the students will be awarded the statement of attainment for "HLTINFCOV001 – Comply with infection prevention and control policies and procedures".
Fill out the form below and one of our Student Admissions Advisors will get in touch with you to guide you through enrolling for this program and answer any questions you have.
Course Features
Lectures

0

Quizzes

0

Duration

50 hours

Skill level

All levels

Language

English

Students

0

Assessments

Yes